Here is some more information and the consensus of the 4 schools.
Below is an extensive research of mine I did.
We all can put down what we believe personally and have opinions about it but the fact remains from my learning this is the law. No one talks about what Sharia laws mentions nor the 4 schools, so hopefully this can be so, now.
People also mention that no apostates are killed these days well that maybe so or not but it still DOES NOT change the sharia law. Yes its perhaps is up to the judge to give the punishment or not but it is there.
Below is what I formed together some time ago:
Here I am going to talking soley on islam and its stance on apostacy - leaving islam. No other countries or religions, so lets keep the comparsions out ;-)
I have done a lot of research, been to (I hope) proper Islamic sites and resources.
Well there is one or two things that seem to stand out, I've seen majority and some scholars says that the apostate should be put to death, quite clear actually, no complex issues with this. The people here at IC seem to bring some stuff from some scholars who say that the killing of apostates is not so. And other sources of the death penalty not so. Well now, which is it, we have some scholars who say yes and some who say no, but to me what should be followed is what the 4 schools of thought say, and what I have found is that all 4 with slightly differing views agree that the apostate should be put to death, even for women, since both genders are equal in punishments under sharia laws. And of course the qu'ran where the laws are derived from.
I know there will be those who will give that the laws need to be deeply understood but what laws or anything for that matter does apostasy need to be understood ? I believe it is a relatively straightforward subject, why does it need to be complicated and have so many laws to figure it out ?

Apostacy is leaving a group of some sort, abandoning, what else is there to understand ?
So many apostates CAN'T talk, cannot live in a safe world with the threat of being killed hanging over their heads and looking over their shoulders in every turn that they do! They cannot talk about themselves or how they feel openly and do things practically in secret and be alone in the world.
Apostacy:

I really don't have much to say here, it generally speaks for it self really.


From: http://63.175.194.25/index.php?ln=eng which is: www.islam-qa.com :
Question #14231: Some of the rulings on apostasy and apostates

"
The apostate is not to be put to death immediately after he falls into apostasy, especially if his apostasy happens because of some doubt that arose. Rather he should be asked to repent and he should be offered the opportunity to return to Islam and resolve his doubts, if he has any doubts. Then if he persists in his apostasy after that, he is to be put to death.

Ibn Qudaamah said in al-Mughni, 9/18:
The apostate should not be put to death until he has been asked to repent three times. This is the view of the majority of scholars, including 'Umar, 'Ali, 'Ata', al-Nakhaii, Maalik, al-Thawri, al-Awzaa'i, Ishaaq and others. Because apostasy comes about because of doubt, and cannot be dispelled in an instant. Time should be allowed for the person to rethink the matter, and the best length of time is three days.
End quote.

The saheeh Sunnah indicates that it is essential to put the apostate to death.

Al-Bukhaari (6922) narrated that Ibn 'Abbaas said: The Messenger of Allaah (peace and blessings of Allaah be upon him) said: "Whoever changes his religion, put him to death."

Al-Bukhaari (6484) and Muslim (1676) narrated that 'Abd-Allaah ibn Mas'ood said: The Messenger of Allaah (peace and blessings of Allaah be upon him) said: "It is not permissible to shed the blood of a Muslim who bears witness that there is no god except Allaah and that I am the Messenger of Allaah, except in one of three cases: a soul for a soul (i.e., in the case of murder); a previously-married person who commits zina; and one who leaves his religion and separates from the main body of the Muslims."

The general meaning of these ahaadeeth indicates that it is essential to put the apostate to death whether he is waging war on Islam (muhaarib) or not.

The view that the apostate who is to be put to death is the one who is waging war on Islam (muhaarib) only is contrary to these ahaadeeth. The Prophet (peace and blessings of Allaah be upon him) said that the reason why he should be put to death is his apostasy, not his waging war against Islam.

Undoubtedly some kinds of apostasy are more abhorrent than others, and the apostasy of one who wages war against Islam is more abhorrent than that of anyone else. Hence some of the scholars differentiated between them, and said that it is not essential to ask the muhaarib to repent or to accept his repentance; rather he should be put to death even if he repents, whereas the repentance of one who is not a muhaarib should be accepted and he should not be put to death. This is the view favoured by Shaykh al-Islam Ibn Taymiyah (may Allaah have mercy on him).

He said:
Apostasy is of two types: ordinary apostasy and extreme apostasy, for which execution is prescribed. In both cases there is evidence that it is essential to execute the apostate, but the evidence indicating that the sentence of death may be waived if the person repents does not apply to both types of apostasy. Rather the evidence indicates that that is allowed only in the first case – i.e., ordinary apostasy – as will be clear to anyone who studies the evidence that speaks about accepting the repentance of the apostate. In the second type – i.e., extreme apostasy – the obligation to put the apostate to death still stands, and there is no text or scholarly consensus to indicate that the death sentence may be waived. The two cases are quite different and there is no comparison between them. It does not say in the Qur'aan or Sunnah, or according to scholarly consensus, that everyone who apostatizes in word or deed may be spared the death sentence if he repents after he is a captured and tried. Rather the Qur'aan and Sunnah, and scholarly consensus, differentiate between the different kinds of apostates.
Al-Saarim al-Maslool, 3/696

Al-Hallaaj was one of the most well known heretics who were put to death without being asked to repent. Al-Qaadi 'Iyaad said:

The Maaliki fuqaha' of Baghdad at the time of al-Muqtadir were unanimously agreed that al-Hallaaj should be killed and crucified because of his claim to divinity and his belief in incarnation, and his saying "I am al-Haqq [God]," even though he outwardly appeared to adhere to sharee'ah, and they did not accept his repentance.

Al-Shifa bi Ta'reef Huqooq al-Mustafa, 2/1091.
Based on this, it is clear that what the questioner says about the apostate not being killed unless he is waging war on Islam is mistaken, and the differentiation that we have quoted from Shaykh al-Islam Ibn Taymiyah may dispel any confusion and make the matter clearer.

Waging war against Islam is not limited only to fighting with weapons, rather it may be done verbally such as defaming Islam or the Prophet (peace and blessings of Allaah be upon him), or attacking the Qur'aan, and so on. Waging verbal war against Islam may be worse than waging war against it with weapons in some cases.

Shaykh al-Islam Ibn Taymiyah said:
Muhaarabah (waging war against Islam) is of two types: physical and verbal. Waging war verbally against Islam may be worse than waging war physically – as stated above – hence the Prophet (peace and blessings of Allaah be upon him) used to kill those who waged war against Islam verbally, whilst letting off some of those who waged war against Islam physically. This ruling is to be applied more strictly after the death of the Prophet (peace and blessings of Allaah be upon him). Mischief may be caused by physical action or by words, but the damage caused by words is many times greater than that caused by physical action; and the goodness achieved by words in reforming may be many times greater than that achieved by physical action. It is proven that waging war against Allaah and His Messenger (peace and blessings of Allaah be upon him) verbally is worse and the efforts on earth to undermine religion by verbal means is more effective.
Al-Saarim al-Maslool, 3/735

The punishment for apostasy (riddah) is well-known in Islaamic Sharee'ah. The one who leaves Islaam will be asked to repent by the Sharee'ah judge in an Islaamic country; if he does not repent and come back to the true religion, he will be killed as a kaafir and apostate, because of the command of the Prophet (peace and blessings of Allaah be upon him): "Whoever changes his religion, kill him." (Reported by al-Bukhaari, 3017 "
Some further reading:


The Penalties for Apostasy in Islam

According to the Four Schools of Islamic Law
by 'Abdurrahmani'l-Djaziri
(the original is Kitabul'l-fiqh 'ala'l-madhahibi'l-'arba'a) and covers far more topics.

There is an english translation: http://www.light-of-life.com/eng/ilaw/l5721efc.htm

Here just a short part about what apostacy means:
(quote) " Apostasy -- Allah forbid it -- is the unbelief of a Muslim who had publicly confessed faith in Islam willingly, according to his knowledge of the fundamentals of Islam, by professing the two main articles of faith (al-shahadatain):

There is no god but Allah. Muhammad is his messenger.

Apostasy can occur by an explicit declaration, such as, "I associate other gods alongside Allah" (usherek billah), or by a claim that results in blasphemy, such as, "Allah has a material substance or a shape just like other substances or shapes" (kufr), or by an action that clearly resembles blasphemy, such as carelessly discarding a Qur´an, or parts of it, or even a word of it (not as an honourable way of disposing it, or as a treatment for the sick), as well as burning the Qur´an out of contempt, and every manner of soiling it (such as putting it in a holy place that has become dirty, or staining it with an unclean substance, such as turning its pages with fingers that have been licked).

The same holds true for "the most beautiful names of Allah," the Hadith collections (traditions), the works of Islamic law and theology, when the Sharia and its regulations are thereby treated with disrespect or contempt, as well as the names of the prophets, or the wearing of a belt -- assigned to unbelievers -- as a leaning toward unbelief. But if a Muslim does this in jest, it is regarded only as a forbidden action (haram).

The same holds true when a Muslim enters a church, worships an idol, or learns and practises magic, for by magic one glorifies a name other than Allah and ascribes predestination, knowledge and control of fate to someone other than Allah.

A Muslim loses his faith when he says that the world has always existed from eternity (qadim), for this assumption denies the existence of the Creator, or when he says that the world is everlasting and without end, since this is a denial of resurrection -- even if he himself believes in the resurrection.

A Muslim also becomes an unbeliever and blasphemer when he denies the existence of Allah, believes in the transmigration of souls (reincarnation) -- since this is a denial of resurrection -- or when he denies a decision agreed upon unanimously by the Islamic community (ummah), such as the obligatory necessity of prayer and fasting or the prohibition of adultery. He also becomes a blasphemer when he denies that which is allowed (halal) -- things over which the scholars of law agree, concerning what can be definitively concluded according to religion based on the Qur´an and the unbroken, traditional Sunna (the path, lifestyle and manners) of the Prophet.

A Muslim loses his faith when he suggests the possibility of prophethood being acquired through spiritual exercise, since that would imply the possible arising of a prophet after Muhammad. The same holds true when he curses a prophet or denigrates an angel whose positions are unanimously upheld by the consensus of the Umma. Apostasy also occurs if he, when talking about a prophet or angel, says, "As for me, I am not an adulterer or a magician," if he accuses a prophet of having a deficiency -- even a physical one, such as a limp or paralysis -- or if he questions the perfection of his knowledge, since each prophet is the most knowledgeable person of his age (but the master of prophets is the Prophet Muhammad -- Allah pray for him and grant him peace -- for he is absolutely the most knowledgeable in all creation). Furthermore, a Muslim becomes an apostate if he defames a prophet's character, morals, virtues, or religion, if he accuses angels of having bad qualities, or if he questions the efficacy of a prophet's asceticism.

Muslim scholars (imams) have said: Apostasy must be determined by the testimony of two upright adult witnesses whose accounts agree. When a judge asks how the Muslim fell from the faith, the witness must say, "He says such and such or does such and such."

All four imams (the founders of the four schools of Islamic law) -- may Allah have mercy upon them -- agree that the apostate whose fall from Islam is beyond doubt -- may Allah forbid it -- must be killed, and his blood must be spilled without reservation. The hypocrite and heretic (zindiq) who poses as a Muslim but has secretly remained an unbeliever must also be killed. (unquote) "


Summary of chapter 2 – quoted:
The Hanafites: When the Muslim falls away from Islam -- may Allah forbid it! -- he is first asked to return. If he has doubts, he is to express them; one can then clear up his doubts, for it may be that he truly has questions with regard to the faith -- questions in need of explanation. By this it is possible to deal with his evil deed (sharr) through the best of two possibilities: death or the acceptance of Islam. However, it remains desirable to offer him the acceptance of Islam again, although this is not obligatory, because the message had already been offered him once.
The Shafi´ites: If a Muslim becomes apostate -- Allah forbid! -- the imam should grant him three days' grace; he is not to be killed before this period expires, for the apostasy of a Muslim from his faith often results from his confusion. Therefore a grace period is necessary, so that he can reflect, and that the truth can become clear to him again. We, the Shafi´ites, have determined that this time should consist of three days, whether he asks for it or not.
But if he does not repent, he is to be killed by the sword immediately. This punishment cannot be evaded, because apostasy is the most atrocious and severe form of blasphemy, and it deserves the cruellest judgement, which invalidates all of a Muslim's previous deeds.
The Malikites: The imam should grant the apostate three days and nights -- beginning with the day on which his apostasy was committed, and not with the day of his unbelief or the day upon which the accusation was brought against him. The three days of confinement are to follow in succession, and the day on which the apostasy was proven should not be considered as part of the time limit, if it was preceded by dawn.
If he repents after three days, he is to be released; but if he does not, he is to be killed on the third day, at sunset.
The Hanbalites: There are two opinions on this issue. Some believe that the apostate should be given a period for repentance consisting of three days, while others are of the opinion that he is to be granted no time for reconsideration but should only be offered Islam. If he accepts the offer, he is to be set free; if not, he is to be put to death immediately.
The Shafi´ites, Hanbalites and Malikites believe that the same treatment is for women to, it is Hanifites who are of the notion that women should only be imprisoned.
http://www.light-of-life.com/eng/ilaw/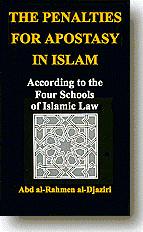 Taken from sunnipath.com:
"As to your question about the issues that bring about a ruling of apostasy, this is a long and risky discussion. Our jurisprudents have devoted entire sections of fiqh books to this subject and have outlined the various issues surrounding it. Some of them have even written entire books devoted to this topic, the most important of these being al-'Ilm bi Qawati' al-Islam (A Notice of the Revilers of Islam) by Shaykh al-Islam Ahmad ibn Hajar al-Haytami, the Imam of the Shafi'i School and mufti of Mecca.
Let me share a few principles of what the scholars have said [on this issue]:
Apostasy is to revile Islam by word, deed, or intention. Whoever reviles Allah Ta'ala, His religion, or any of His prophets has committed unbelief. And whoever explicitly speaks a word of unbelief and believes what he has uttered has also committed unbelief, such as a person who says, "Allah is the third of three," or, "The Messiah is the son of God." Whoever commits an act of unbelief and believes in what he is doing becomes an unbeliever, such as someone who prostrates to an idol or throws the Quran in the trash. And if someone intends in his heart to revile Islam, he is an apostate, even if he does not say or do anything.
Amjad Rasheed"
http://qa.sunnipath.com/issue_view.asp?HD=7&ID=4986& CATE=2
"The prescribed punishment for a murtadd:
If a sane person who has reached puberty voluntarily apostatizes from Islam, he deserves to be punished.þ In such a case, it is obligatory for the caliph (or his representative) to ask him to repent and return to Islam. If he does, it is accepted from him, but if he refuses, he is immediately killed."
http://www.islamonline.net/servlet/Satellite?pagename=IslamO nline-English-Ask_Scholar/FatwaE/FatwaE&cid=111950354413 4
Some other resources.
http://forums.muslimvillage.net/lofiversion/index.php/t11707 -0.html
http://www.sunniforum.com/forum/showthread.php?t=4044
THE MUSLIM CONDUCT OF STATE - Dr. M. Hamidullah
http://www.beautifulislam.net/articles/apostacy_blasphemy_is lam.htm#muslim
Short article Apostacy (Irtidad) in Islam